Shelly was born Feb.25,l967 and she was just precious,
but we all think that don't we? That is the Mother in us.
When Shelly was 8 months old, she didn't like Halloween,
it was her first,so me and Tony decided it was time to take
the bottle away from her,so we told her the spooks got it,
and she never ask for it again.


Time flies by fast and when Shelly wanted a big bicycle to ride
and take the training wheels off, well guess what her Dad did,
and Tony taught her to ride it. But she wanted me to ride it first,
well I will never forget this,I was trying my best to impress her
and I fell off the bicycle into the biggest bush up the street and


I was stuck in the bush, well guess who laughed Tony and Shelly.


When Shelly started to school, she was very smart,
I don't know where she got that at! But I would ask her to get
her homework and she would get so mad at me, so she told
her Dad and he said to leave her alone and see if she gets
good grades at the end of the six weeks, so I did and she got all A's.
So that made me feel like a fool. But I was happy for her, and never did
bother her again. Well like I said time flies and Shelly went to the prom
her Junior year and her Senior year but she was really a tomboy.
I remember she said well it was alright, but I want this dress off!!
Shelly graduated from High School in l985. We was so proud of her.
She had a good job and was making good money at Royal Insurance
She wanted a new car, so she got it all by herself. She was very
strong willed person.


Then on June 14th l986 it came to a end,
she had a boyfriend named Ricky and of course I didn't care for him,
but that is a mother. Shelly and Ricky was going to her company pinic
and for some reason Ricky decided to drag race with Shelly in the car,
and lost control and the car fliped over three times and landed on Shelly they
said she was gone right then, and Ricky didn't get but one scratch.
Do you ever wonder why things like this happens?
I will be truthful and tell you that you never get over it a piece of
your heart is gone. But we will cherish every moment we had with Shelly,
and I believe that we will all be together someday. Right now I believe that
all of our Angels are in heaven together. And I hope when we get to heaven
that we will all know each other,I know that we all have alot of questions to ask,
I sure do! But until then I will just put one foot in front of the other and
live day by day. Shelly there is not a day that goes by that I don't think of you
and we love you with all of our hearts. Till we meet again in heaven!
Love You, Mom and Dad.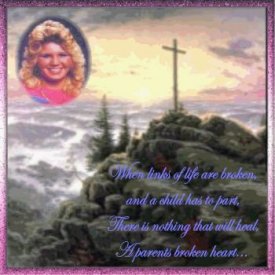 Thank you Donna
Please visit Zac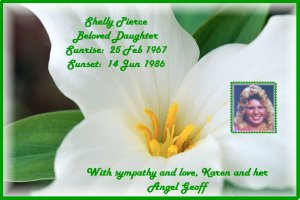 Thank you Karen
Please visit Geof
Sign my Guestbook
View my Guestbook